Introducing Blue Star Planning features
Introducing Blue Star Planning features
https://bluestarplanning.com/wp-content/themes/corpus/images/empty/thumbnail.jpg
150
150
Ivan
https://secure.gravatar.com/avatar/37d5ff50aced0b4c6d762284f9053b14?s=96&d=mm&r=g
Welcome to the first of a series of blog posts that will walk you through our production management platform's features. In each post, we'll take a closer look at a certain feature, explaining what it is, how it works, and how it may help your business. In the end, we will have summarized all of the features, making it easier for you to see the benefits that our platform offers.
Production Process Management

Our powerful platform is more than just a planning tool, it's a complete solution for easily managing your entire production process. We've got you covered from scheduling to production flow. With our platform, you'll have access to everything you need to streamline your operations, increase efficiency, and reduce errors.
Easy-to-Use Planboard

Our planboard is a clearly arranged overview of your production orders. The drag-and-drop interface with color coding enables instant feedback on your production cycles, making it powerful without adding complexity. The planboard makes it easy for you to manage your production planning, ensuring that everything is on track and schedule.
Quick Onboarding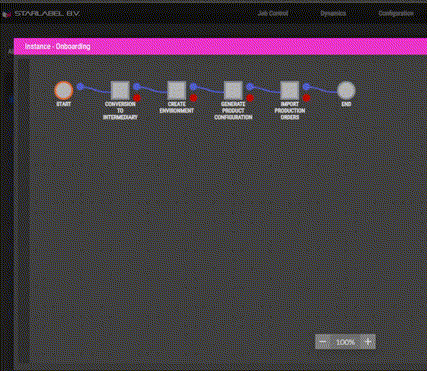 Say goodbye to time-consuming onboarding procedures: With our advanced integration technology, you can start with your own data in Blue Star Planning in no time. Our user-friendly platform is designed to be intuitive, so you can get up and running quickly, with no need for extensive training.
Powerful Insights

Combining your customer order specifications with machine telemetry and environmental data gives you powerful insights for every production run. Blue Star Planning is the platform and backend for your telemetry and insights. With these insights, you'll be able to make more informed decisions, reduce waste, and optimize your production processes.
Blue Star Planning is a complete solution for automating your production planning process and providing an overview of your entire production. With features for quick onboarding and easy to use planboard, we aim to make managing your production processes as efficient and effective as possible. In our next blog post, we'll go over another set of four features that characterize our platform.