Part 3: Introducing Blue Star Planning Features
Part 3: Introducing Blue Star Planning Features
https://bluestarplanning.com/wp-content/themes/corpus/images/empty/thumbnail.jpg
150
150
Ivan
https://secure.gravatar.com/avatar/37d5ff50aced0b4c6d762284f9053b14?s=96&d=mm&r=g
The third installment of our features blog series walks you through another set of our platform's functionalities designed to make your production simpler and more effective. The first two parts of this blog started by describing the advantages of our platform and what they bring to your production. The second post in the series, which you should read if you want to improve the efficiency of your production, can be found here.
Generating production sequences according to company-specific preferences

Blue Star Planning generates production sequences tailored to your preferences and production capabilities. This first step supports your planner and sets your planning department up for success. The next step is managing your production progress in real-time, continuously streamlining and optimizing for results.
Live production status and production order tracking

As production changes from day to day, Blue Star Planning's live status updates and production order tracking provide critical real-time insights into shop floor performance and progress that any planner should know by heart. By tracking this information, you can quickly identify any bottlenecks or issues that arise and take the right action before they disrupt your entire production process.
Advanced calculations for time consumption and forecasting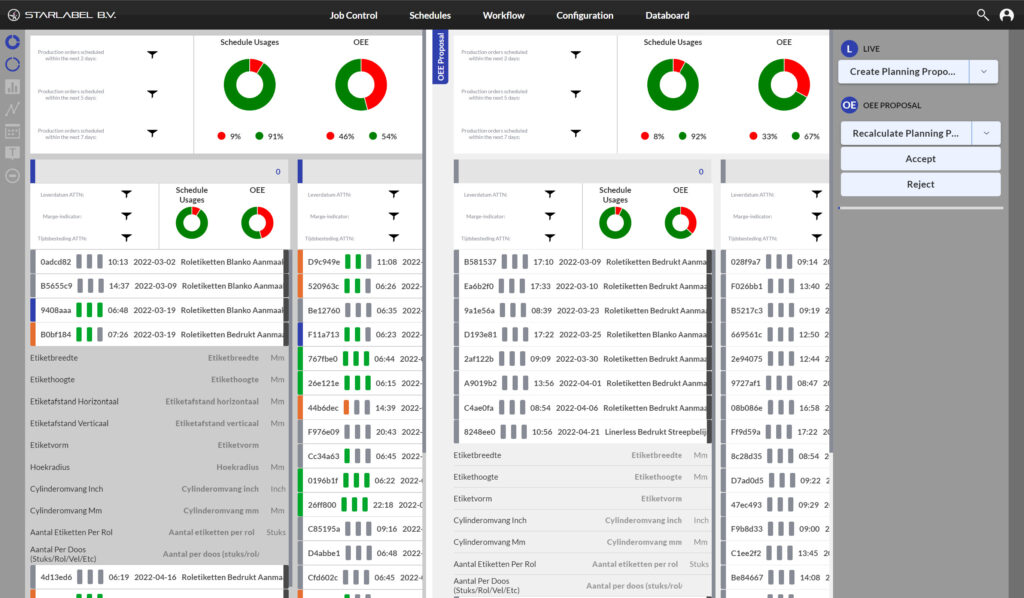 Blue Star Planning's scheduler also calculates the time required for production orders, allowing you to confidently plan your next move and reduce the uncertainty in your production schedules and availability. This feature ensures that you always have the right resources available to meet your production demands and that their utilization in your production environment is optimized. In other words, less time is spent on non-production activities and less material waste.
Combining multiple products and variants into a single production order


Blue Star Planning is all about making the most of your production process. Our platform streamlines the process by combining multiple products and variants into a single production order, saving you time and optimizing your multi-input production process.
As a production platform, we are committed to improving the decision-making process by utilizing custom algorithms and advanced calculations and serving you the best options. As a result, instead of taking the decision-making from you, generating production sequences, production grouping, and other features discussed in this blog series are here to lay the groundwork and do the "dirty work" for your planner, whose job will be much easier in decision-making and real-time tracking in our web app.